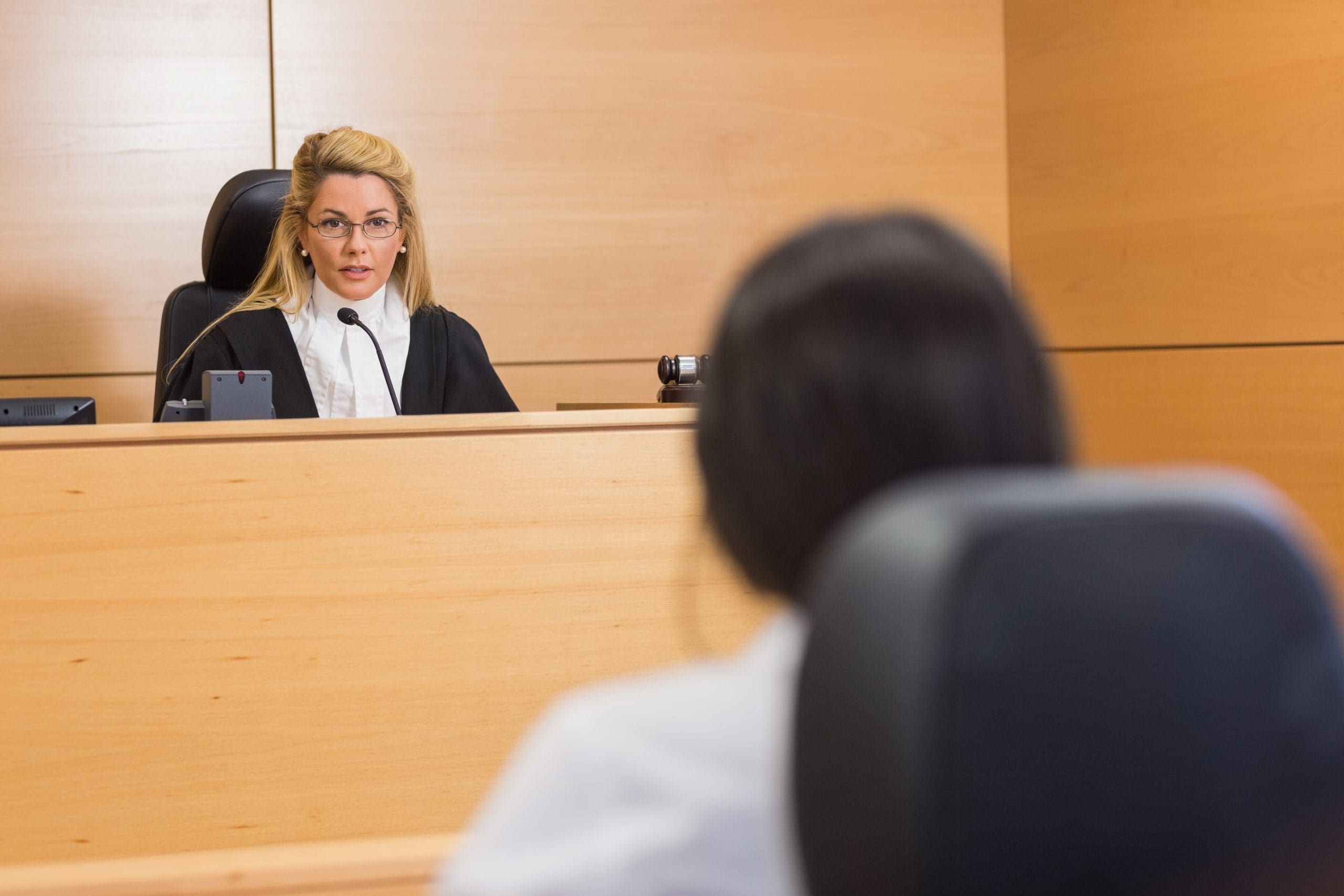 While there is no specific dress code the Court requires visitors to recognise that it is a formal place and individuals should therefore dress accordingly.
Do wear:
Neat, clean and ironed clothing
Dress shirt or blouse, open-collar or polo shirt
Long pants or a dress or skirt at knee-length or below
Blazer, sweater or cardigan as it may become cold
Comfortable shoes that cover all or most of the foot
Do not wear:
Thongs
Singlets
Fluoro colours
Hats, helmets or sunglasses
What should I take with me?
Being prepared is important. You should ensure that you take the following items with you to Court:
Copies of all Court documents that you have received
Copies of all Court documents that you have prepared
Any other documents that you want to rely on
Pen and paper
Water and a snack
Who can come to court with me?
You can bring a support person with you to Court. Your support person may be a family member or friend. A person should not be your support person if they are involved in the proceedings or likely to be called as a witness to the proceedings.
Where do I sit in the Courtroom?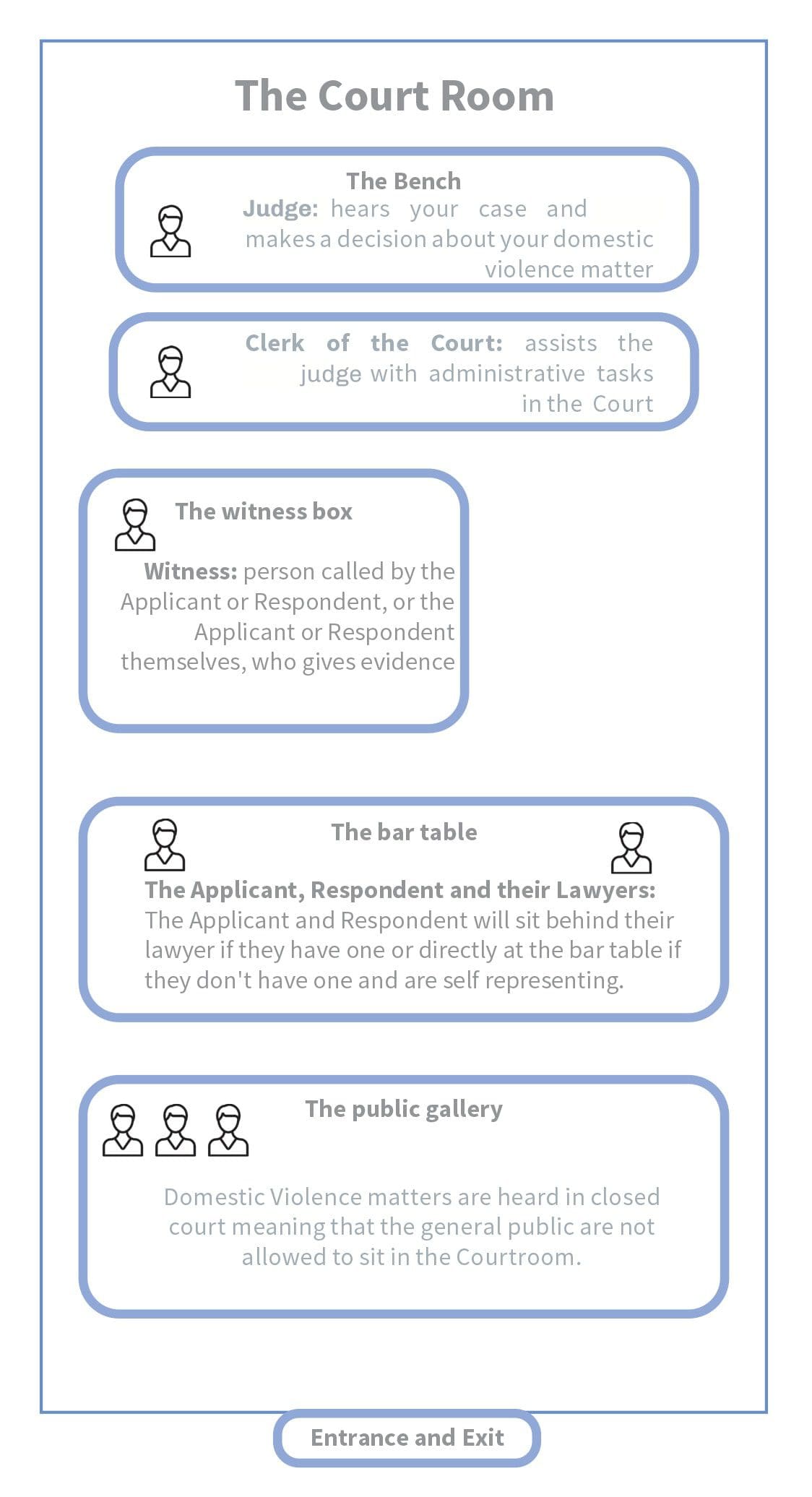 What if I am concerned for my safety?
The Court can make arrangements for you, when you attend Court, if you are concerned about your safety. You can contact the Court where your case is being heard and discuss your concerns and possible arrangements. It is best to call the Court at least five days before your Court date.
There are safe rooms available in many registries and provision can sometimes be made for separate entry and exit points. You may be able to attend by phone or by video. If you are concerned about your safety outside the Court or have questions about domestic violence, it is recommended to contact the police or domestic violence support services.
How should I behave in the courtroom?
The Court is a formal venue and individuals are expected to show respect to Court personnel and follow certain practices. When you are in Court:
Do not take food or drink into the Courtroom
Turn your mobile phone off before entering the Courtroom
If the Judge is present and sitting down in the Courtroom when you enter and exit you should briefly bow as a sign of respect
You should call the Judge 'Your Honour'
Do not speak when the Judge is speaking
Do not interrupt the other party when they are speaking
Be mindful of both your language and body language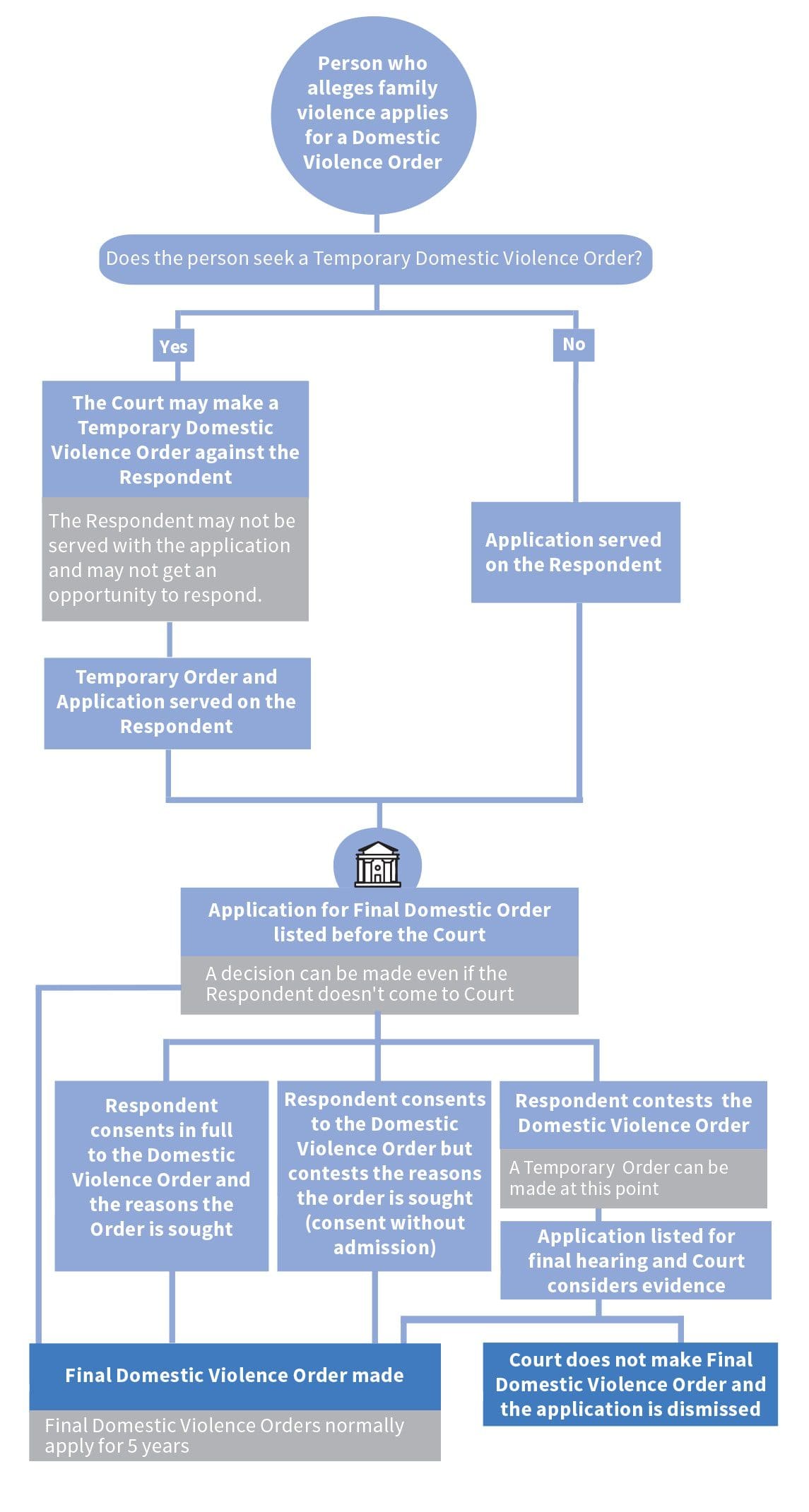 Message from the CEO
At New Way Lawyers, we think families are special. When difficult situations like conflict, separation, divorce or the passing of a loved one occur within a family we care and we want to help. Our purpose is to provide a holistic response for individuals who are facing these challenging situations so that they can find a pathway forward for the future. In 2009 we opened as Australia's first non profit law firm and we are committed to providing the best quality legal advice at an affordable price with a strong focus on client care.
In many situations individuals feel that they have no option but to represent themselves in their legal matter because they are not eligible for Legal Aid but cannot afford the cost of a private law firm. As a non profit law firm, New Way Lawyers seeks to help these individuals by providing quality legal advice and representation at a more affordable cost. Even though we are able to help many individuals who believed the only option was to represent themselves, we understand that some individuals may still need to, or choose to self represent.
Having to learn all about the law relating to domestic violence can be a daunting and difficult process. We have therefore prepared this  practical information about what to expect when you first attend the Magistrates Courts. We hope that it will be of assistance to you.
Carolyn Devries
Through our Lunch with a Lawyer Facebook group we have been able to answer many questions asked by people who are self representing in family law matters. If you'd like to have your questions answered, sign up below.